Click here for this in full @ The Messenger online: http://www.messenger.com.ge/issues/2734_november_12_2012/2734_eto.html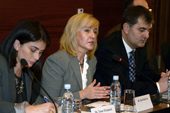 On Friday, the Ministry of Corrections and Legal Assistance of Georgia, with assistance from the United Nations Development Programme (UNDP), launched a discussion on effective mechanisms for monitoring the human rights situation in Georgian prisons. The public defender of Georgia has been the only institution since 2007 to implement public oversight over the prisons. Alternative monitoring can ensure more effective protection of human rights and prevent torture and ill-treatment.
The meeting brought together representatives of the government, civil society and international organizations at the Radisson Blu Iveria Hotel.
The discussion was opened by Minister Sozar Subari who has emphasized the necessity of public monitoring in the penitentiary systems and welcomed all interested organizations who want to make their contribution in making the system healthier.
Click here for this in full @ The Messenger online: http://www.messenger.com.ge/issues/2734_november_12_2012/2734_eto.html